The FilmLight company published an article about the 247HUB studio on its website, emphasizing it as one of the most modern post-production studios in this part of Europe.
" 247 HUB represents a fusion of talent, experience and passion. They offer a complete package of services required to produce your high-quality audio-visual work. They believe that authors should be given the opportunity to express their creativity to the full extent and strive to help them achieve their goal ".
In this way FilmLight  reports on 247HUB.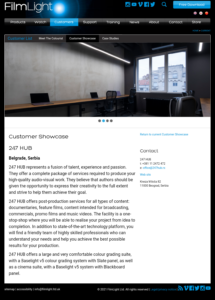 We are proud to be the only one in this part of Europe to integrate the FilmLight  Baselight system into our facility and we are grateful to our FilmLight partners for recognizing our goals and vision.
For full coverage plese visit:
https://www.filmlight.ltd.uk/customers/customer-showcase/247hub.php